Changing Destructive Thoughts Into Action
January 7, 2022
Imposter Syndrome. It almost sounds like an illness, doesn't it? Although it isn't a diagnosis or a medical problem, it can cripple us with the negative self-talk, self-doubt which can lead to missed opportunities.
Imposter syndrome thoughts which can sabotage us can include:
"I'm not that good"
"Everyone else seems to do it better"
"I'm tired of trying… what's the point?"
"I'm not qualified enough"
"I'm not experienced enough"
"I'm a fraud and I'm going to be exposed soon!"
And the list goes on! The first thing to understand here is that all humans have these thoughts, at least at some point in their lifetime.
We chatted with one of our NEIS clients, Renee Cusworth about this phenomenon. Renee is an Intuitive Guide & Social Coach, helping people navigate these confusing and often overwhelming times.
Renee is also a Qualified Kinesiologist, PEERS® Certified Trainer and a Certification Candidate with the Centre for Nonviolent Communication.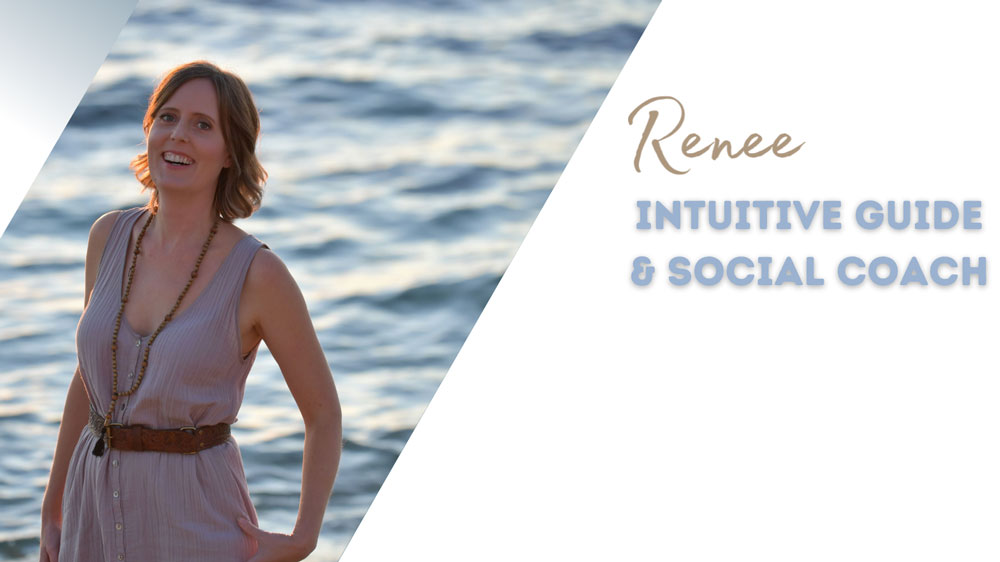 Seeking Support
The depth at which your thoughts are sabotaging you may be deeper than you realise. Often these thoughts have been seeded in childhood and have formed deep-rooted belief patterns. You may need the help of a third party, to help you uncover and resolve these beliefs, which are held in the subconscious mind (i.e. you're not consciously aware of them).
Some ways in which you can seek support include seeing a Counsellor, Psychologist, Kinesiologist or any other wellbeing Practitioner, or you can contact a 24/7 helpline such as Beyond Blue. Your GP can offer you a free mental health care plan and you'll receive full or partial session rebates with your chosen therapist who is eligible for the program.
As a small business owner, you are likely eligible for six free Online 'Low-intensity Cognitive Behavioural Therapy ('LiCBT')' sessions, developed by Beyond Blue and delivered by New Access.
Share Your Story
'Imposter syndrome' thoughts are extremely common and are a result of a shaming culture. According to shame researcher, Professor Brené Brown, the best way to move through shame is by developing 'shame resilience' and having the courage to voice your thoughts and feelings (i.e. being vulnerable) with someone you trust.
In the company of someone you trust, you may receive the empathy you need to be able to move forward.
If you don't have anyone in your personal life that could offer you genuine empathy, then consider joining a like-minded group in your community. Meetup is a wonderful way to connect with kind souls and there are even Empathy Groups established for this very purpose.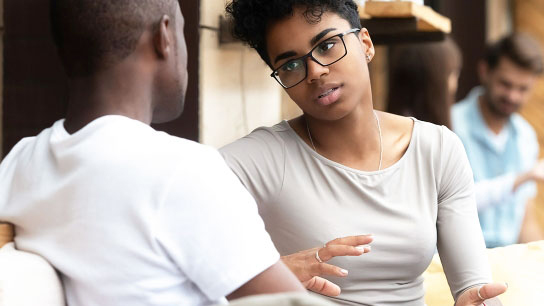 Just Do It
In the words of Nike, "Just Do It!" Have you experienced 'analysis by paralysis'? This is where you get so caught up in your thoughts, considering all the options and all the other things that come with every different option, that you freeze.
All of a sudden, all of your wonderful ideas have overwhelmed you and you can't decide on anything!
Firstly, you need to take a walk, get some fresh air and clear your head. Come back to your heart, your core, what is driving you in your business, and see if you can feel which option you are drawn to. If you receive clarity, then great! Move forward to the next step. If you don't receive clarity, then this is where your Business Coach or Mentor comes in.
Next step, whatever it is that you have decided on as a next step in your business, you need to take action! This point cannot be underestimated.
Besides the obvious of 'if you don't take action, nothing will get done', taking action and changing your behaviour is a proven strategy for living a happier life. In the widely used 'Cognitive Behavioural Therapy' ('CBT'), changing behaviour is the primary strategy for overcoming unhappiness.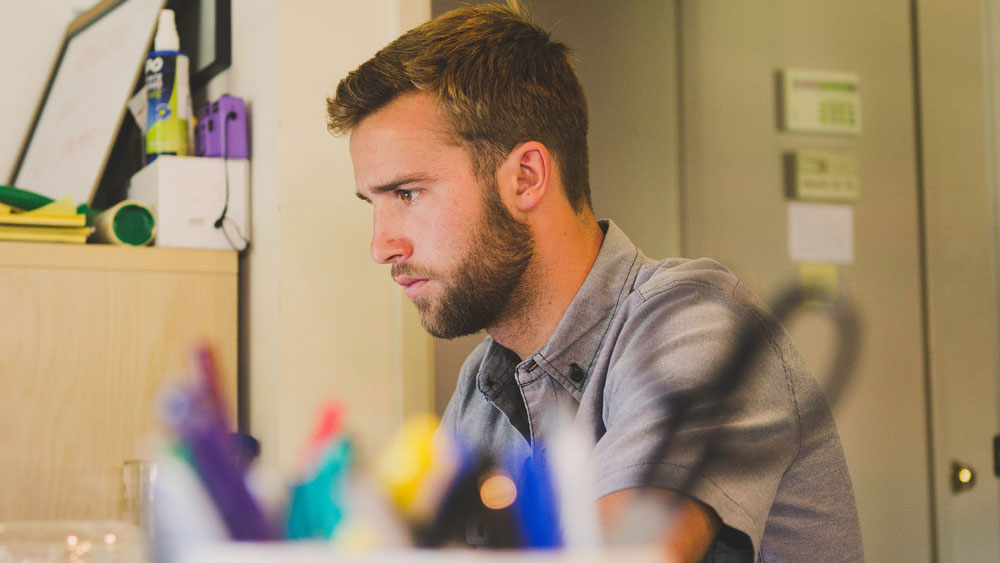 As our wise Business Advisor & Mentor, Eric Clock recently advised a NEIS participant:
Fail Fast
Fail Often
Fail Cheaply
In other words, don't fear failing because you will fail and that's the point of growth and building successful business! Also translated as… take action! And – don't waste your time over-analysing anything, just get out there, give it a go and do so on a budget! And once you fail, pick yourself up and get back out there as soon as possible.
Mark Manson, author of 'The Subtle Art of Not Giving a F**k – The Counterintuitive Approach To Living a Good Life' and 'Everything is F**ked – A Book About Hope') describes how we can overcome procrastination by taking just one tiny action step.
So rather than thinking you're going to be stuck on the computer for 8 hours, tell yourself that you're just going to sit down for 20 mins and reply to emails from today. After you have achieved that first little goal, you then become motivated to 'just do a little bit more' and keep working.  The action comes first, then the motivation. Not the other way around as commonly thought!
Another technique to help you take action is to work in 20-minute intervals, have a break for 5 minutes and then come back for another 20 minutes and repeat. If 20 minutes is too long, then start with less time and build up from there!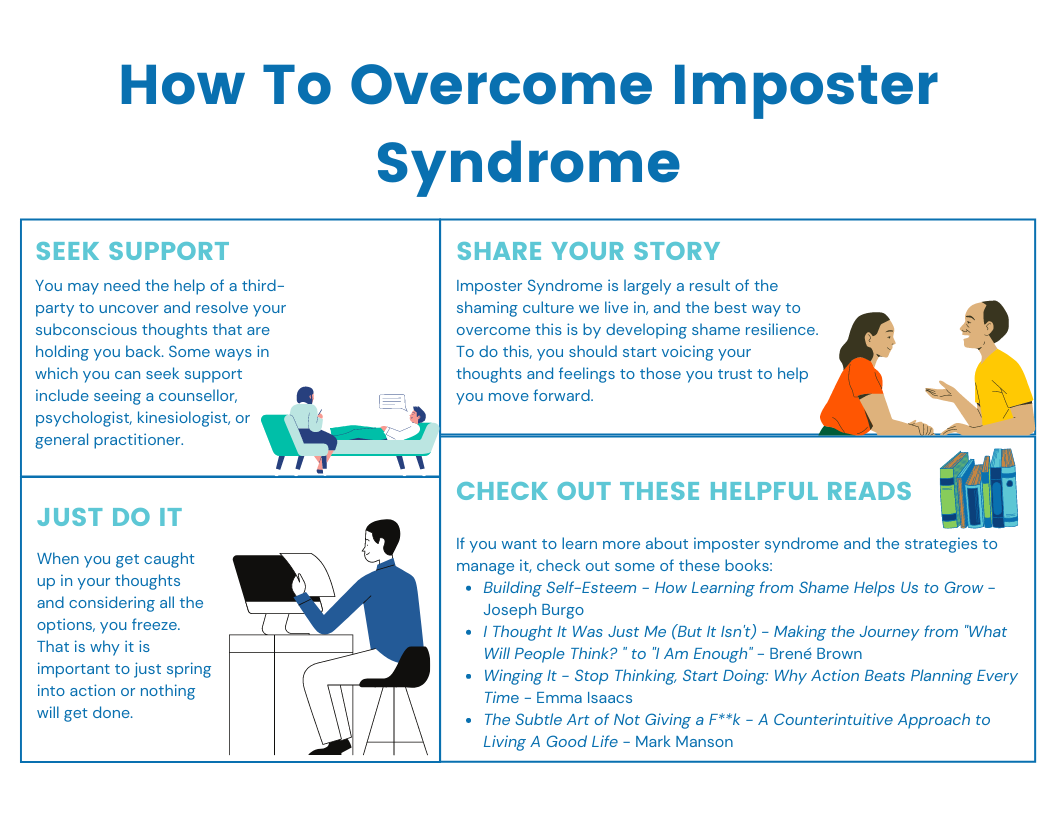 Helpful Reads
Some books which go into more detail on this topic and provide excellent strategies to deal with Imposter Syndrome include:
'Building Self-Esteem – How Learning from Shame Helps Us to Grow – Joseph Burgo, PhD
'I thought It Was Just Me (But It Isn't) – Making the Journey from "What will People Think?" to "I Am Enough"' – Brené Brown, PhD
'Winging It – Stop Thinking, Start Doing: Why Action Beats Planning Every Time' – Emma Isaacs (founder of the 'Business Chicks' Facebook community)
'The Subtle Art of Not Giving a F**k – A Counterintuitive Approach to Living A Good Life' – Mark Manson
You can learn more about Renee's business through her Website, Facebook and Instagram.
Ackowledgement Of Country
Business Foundations acknowledges the traditional custodians throughout Western Australia and their continuing connection to the land, waters and community. We pay our respects to all members of the Aboriginal communities and their cultures; and to Elders both past and present.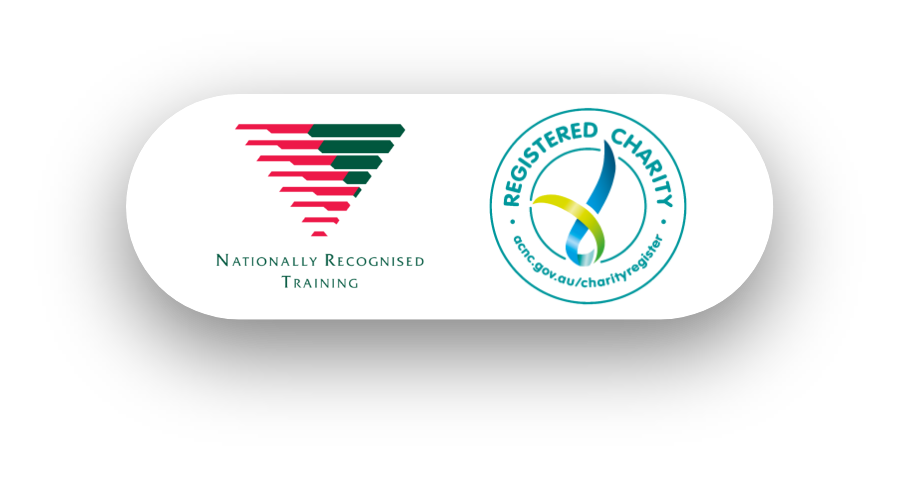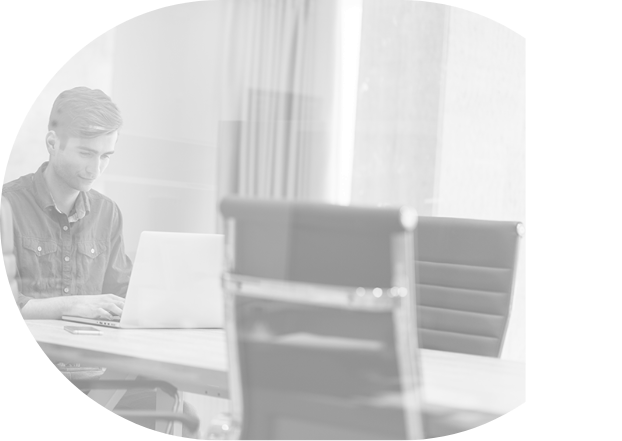 Get In Touch
Have a question or to find out how we can help you, please get in touch.