It's Time To Collaborate With Other Businesses
November 5, 2021
A collaboration is when two businesses combine resources and share expertise to achieve a common goal or objective.
Collaborating with other businesses can be a rewarding experience that supports the growth of the businesses involved. By working with another business, you reach a wider customer base and learn better ways of doing business.
We have provided a run down on everything you need to know about partnering with other SMEs for business growth.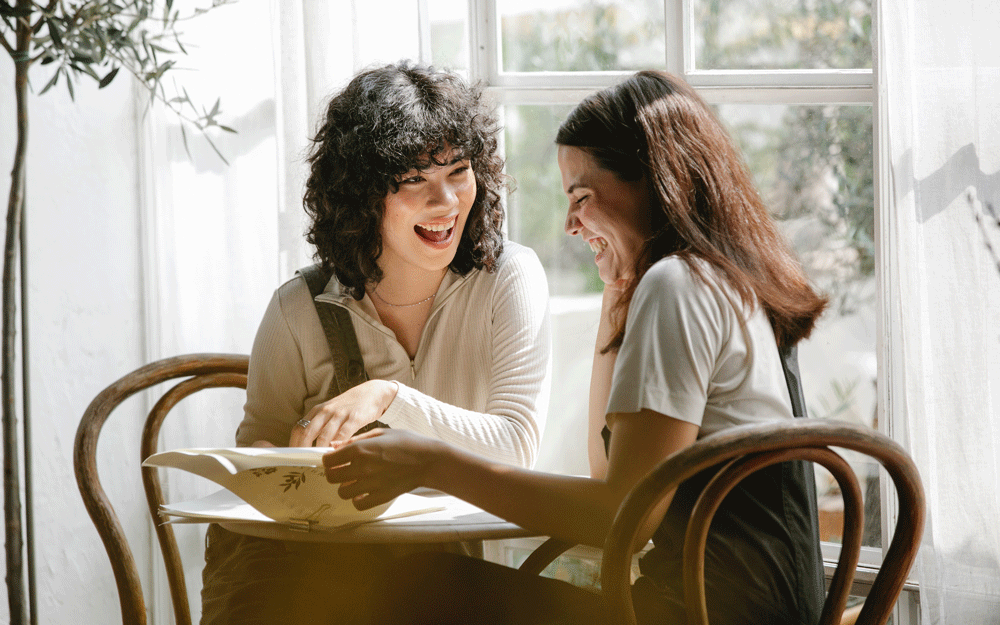 Collaboration can be an excellent strategy to expand your audience and grow your business, and offers benefits such as:
You Will Learn New Ways Of Doing Business
By working with another business, you will get out of the day-to-day routine and combine different skill sets and perspectives. As you discuss new ideas and compare techniques, both businesses should learn new ways on how to run their business.
You Will Grow Your Network
A large component of being successful as a business owner is through networking and growing relationships with other businesses. When you reach out to other businesses to form a partnership, you are expanding your network even if they do not say yes and it may leave a door open for other opportunities in the future.
You Will Save Money
When you partner with another business, you will split money and resources which will allow you to save money or double your budget. In addition, you may also learn more cost-effective ways of doing business or grow your business, which will make you more money in the long run.
You Will Receive More Exposure For Your Business
When you collaborate with another business, you have double the marketing opportunities and you instantly gain access to their audience as well as your own. In doing this, you are raising your business' profile. You also strengthen your brand's voice when you partner with other businesses, as it reinforces your business' values when you partner with likeminded business owners.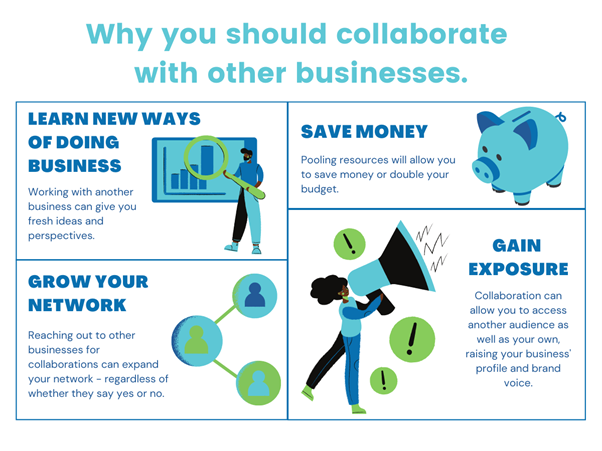 How You Can Start Collaborating With Other Businesses
When selecting who you should collaborate with, it is wise to consider a complementary business who works in a similar field to your business but is not a direct competitor. This means that the audience you are accessing will be relevant, but you are not losing business to your partner.
In addition, you should also ensure that the business has similar values to you, as to not alienate your existing customers with this partnership.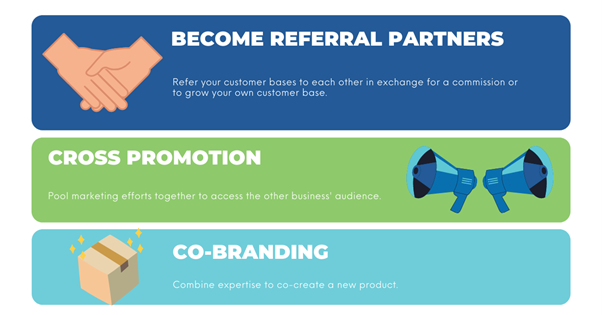 Become Referral Partners
In implementing a referral program, you can both agree to refer your customer bases to each other, either in exchange for a commission or purely just to grow your customer base.
A good example of how this might be implemented is that a wedding planner may have a referral program with local florists, wedding caterers, photographers, and more.
Cross Promotion
Your collaboration could simply be a cross promotion between two businesses, which is where you agree to advertise for each other to access a wider customer base. To achieve this, you may:
Promote each other on social media,
Share a stall at a local market,
Agree to stock each other's items in your shop, or,
Run a competition and use both business' goods or services as the prize.
Using your collaboration to cross promote is a simple way to pool resources and get your business in front of the other company's audience.
Co-Branding
Whilst co-branding is one of the more involved forms of collaboration, it can be the most rewarding. Co-branding refers to two businesses who combine their experience and expertise to create a new product.
Contact Us
Fremantle Headquarters
Wesley Central.
2 Cantonment Street,
Fremantle WA 6160
(Level 1, Behind The Church)
PO Box 1616, Fremantle WA 6959
---
Get In Touch
Want to get in touch with us? Great…we're all ears.