Ditch The Plastic For Plastic Free July
July 22, 2021
Plastic Free July challenges people around the world to stop using single-use plastics for the month of July.
Beginning as a Western Australian grassroots movement in 2011, Plastic Free July is now undertaken by millions of people around the world. To give you an idea of the significance of the movement, participants of Plastic Free July have achieved:
A reduction on their household waste and recycling by 21kg per person, per year,
A prevention of 940 million kilograms of plastic waste going to landfill per year,
5/10 participants made changes that have now become a standard way of life.
We have have compiled a list of tips specific for businesses wanting to take part in the Plastic Free July challenge.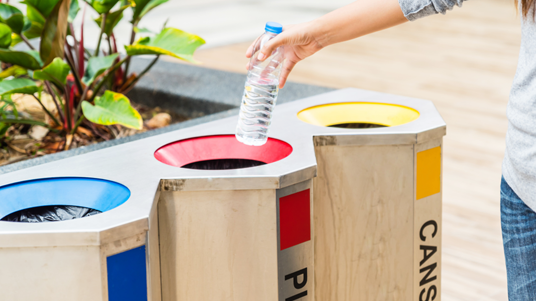 Packaging
Your business can choose to make the switch from plastic packaging to more sustainable alternatives. For one full bin of consumer waste, there were over 70 full bins of waste generated from making it.
Your business can play an important role in cutting down waste before it gets to your customers.
If you are not sure about how much plastic you are currently using, conduct a bin audit to identify which plastics you can avoid, and which plastics you can recycle.
You can ask your suppliers to stop packing with plastic or request returnable or sustainable alternatives. If that is not possible, you could investigate switching to a different supplier who can do this for you.
Another great idea to cut down the use of plastics in your business, is to keep old cardboard boxes to offer in place of plastic bags. If you run an online business, bubble wrap can be easily substituted for shredded paper when packing orders.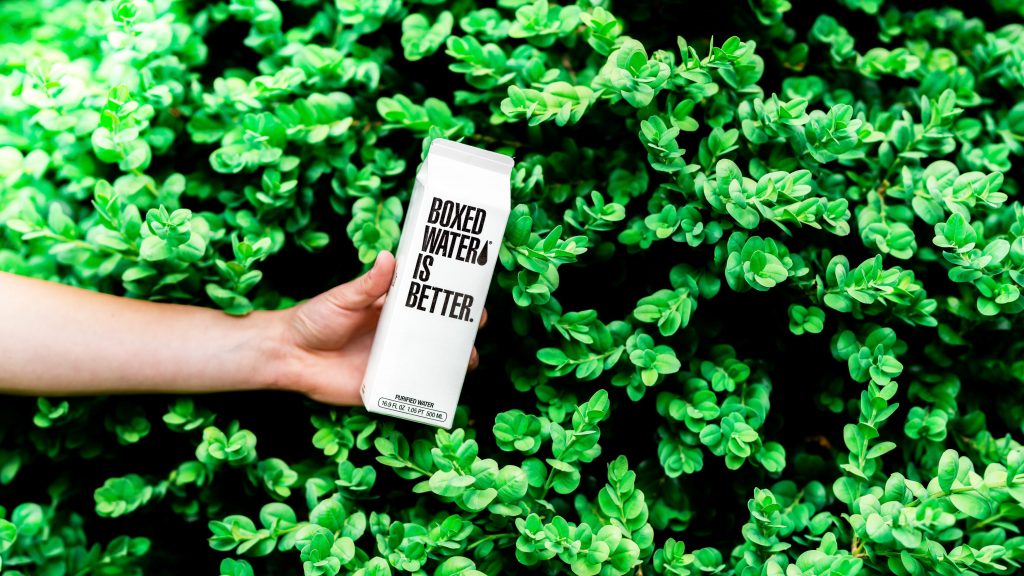 Food Service
If you run a food business, you may want to ditch disposable plastic or only provide it upon request. Some substitutions your business could implement include:
Swap single-use condiments for large bottles that can be refilled (e.g., soy sauce, tomato sauce, mayonnaise, butter, jam, vinegar, salt, and pepper).
Swap plastic cutlery for reusable metal ones or consider compostable cutlery for take-away dining.
Swap plastic plates for ceramic.
Encourage customers to bring their own container when ordering take-away.
Encourage customers to bring back cup holders for reuse.
Offer filtered water in glasses instead of plastic water bottles.
Offer a discount for people who bring in keep-cups or their own container.
The food industry is a large contributor of single-use plastic waste, so by phasing out or removing your disposable plastic use, you will be making a significant impact. You may also find that switching away from disposables will save you money in the long run.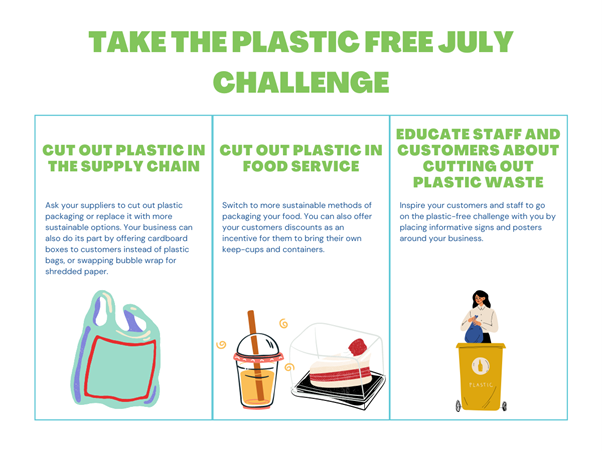 Business Signage/Staff And Customers
Displaying signage around your business about your plastic-free journey is a great way to inform customers and staff of what you are doing and encourage them to get involved.
Some examples of things you could say in your signage include why your business has decided to take part in plastic-free July, what changes you have made to do this, and what bin your customers should throw their waste in.
Make it a challenge for staff to stop bringing in disposable water bottles and coffee cups into work and to start using reusable ones. Showing your commitment to getting rid of disposable plastics may inspire them to also take on the challenge at home.
Giving up disposable plastics for a month may be a challenge for many small business owners. However, this can introduce new sustainable habits and switching to reusables will likely save you money in the long run.
If you want to find out more about Plastic Free July, or how you can undergo this challenge in your household, check out their website here.
Contact Us
Fremantle Headquarters
Wesley Central.
2 Cantonment Street,
Fremantle WA 6160
(Level 1, Behind The Church)
PO Box 1616, Fremantle WA 6959
---
Get In Touch
Want to get in touch with us? Great…we're all ears.