Five Ways To Invest In Your Business in 2021
January 8, 2021
It can be difficult to justify investing in your business whilst in the middle of a global crisis.
However, after the hardship that 2020 has brought upon many businesses, investing back into your business can be an ideal way to improve the growth and survival of your business.
We have has compiled a list of areas in your business you can start investing in to safeguard the future of your business.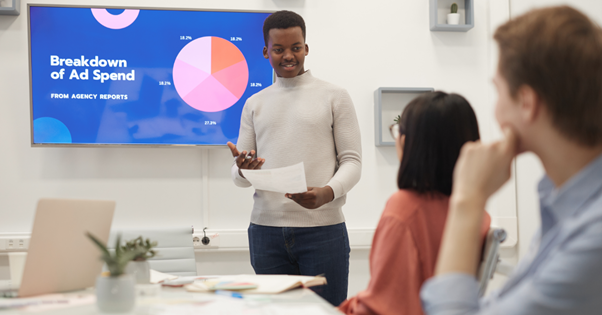 Marketing
Marketing is a key area of investment for every business as it works to inform customers of your business and keep them coming through your doors.
A long-term marketing plan could be beneficial for your business in 2021 as a strategy for finding new customers and retaining existing customers. It may be wise to employ someone to handle this for you as having an expert in this area can be very valuable.
COVID-19 has led more people to start shopping online, therefore it may be worth putting extra focus on digital marketing strategies. Especially during an economic downturn, marketing is an essential area to invest in your business.
Upgrade Digital Assets
The world is becoming increasingly digital, which has only been accelerated with COVID-19, therefore now is an important time to invest in your business' digital presentation and capabilities.
This may involve moving your business online, giving your website a fresh coat of paint, or adding new features such as online customer support. Further, if your business relies on the use of photographs to showcase what you have to offer, it may be worth sourcing a professional photographer to update these photos.
Good quality pictures are very important in showcasing your strengths, so it is important that your pictures are also not outdated and are of a high quality. As customers are increasingly preferring to do business online, you will need to make sure your business does not get left behind and you have impeccable digital presentation.
Development Of Staff
Your employees are the lifeblood of your business. Good employees that are invested in your business make a world of difference to your success and growth. Employees must feel important and that they have a future with your business.
If you can make your employees feel that they are having a meaningful impact on your business, they will go the extra mile for you. Invest in their professional development to show your employees that you value them and that you are willing to invest back in them, just as they have invested in you.
If you think your business could benefit from your employees learning a new skill or how to use a new program, then enrol them in a course. Not only will this improve your employees' capabilities, but they will also be more likely to work harder in your business if you are making them feel valued and appreciated.
Upgrade Essential Equipment Or Improve Offerings
A great way to invest in your business is to focus on research and development. Your business could start by looking at your most profitable products and services and consider ways that these can be improved to be even more appealing to your customers.
If your customers have provided you with feedback on your products and services – implement it! In addition, it may also be worth looking at upgrading equipment or software. You could look at upgrading equipment that can significantly improve your offerings, production capacity, or things that will speed up business processes.
Insurances & Legal Protection
Business insurances can be essential in protecting your business financially from a crisis. Professional indemnity insurance is particularly important for those who run service-based businesses or ones that offer any advice to customers. If your business were to ever give advice to a customer that results in a poor outcome, your professional indemnity insurance will cover the legal costs if they were to pursue legal action.
There are many types of relevant business insurances and being adequately covered could be make or break in your business' survival if a mistake were to be made.
Investing in your business is crucial for the growth and survival of your business. For owners looking to invest in their business for 2021, these strategies may be a good place to start.
Contact Us
Fremantle Headquarters
Wesley Central.
2 Cantonment Street,
Fremantle WA 6160
(Level 1, Behind The Church)
PO Box 1616, Fremantle WA 6959
---
Get In Touch
Want to get in touch with us? Great…we're all ears.