Business Foundations has a passion for supporting Indigenous owned businesses to thrive and grow. Our operations strive to ensure that our services are available to all those that seek it in Western Australia, even in remote communities.
As part of our commitment to our Indigenous Opportunities Policy, Business Foundations shows its support to Indigenous Australians through its membership in Indigenous organisations.
These include Supply Nation, Western Australian Indigenous Tourism Operators Council, the Noongar Chamber of Commerce and the sponsorship of the Aboriginal Enterprises in Mining, Energy and Exploration (AEMEE) Conference.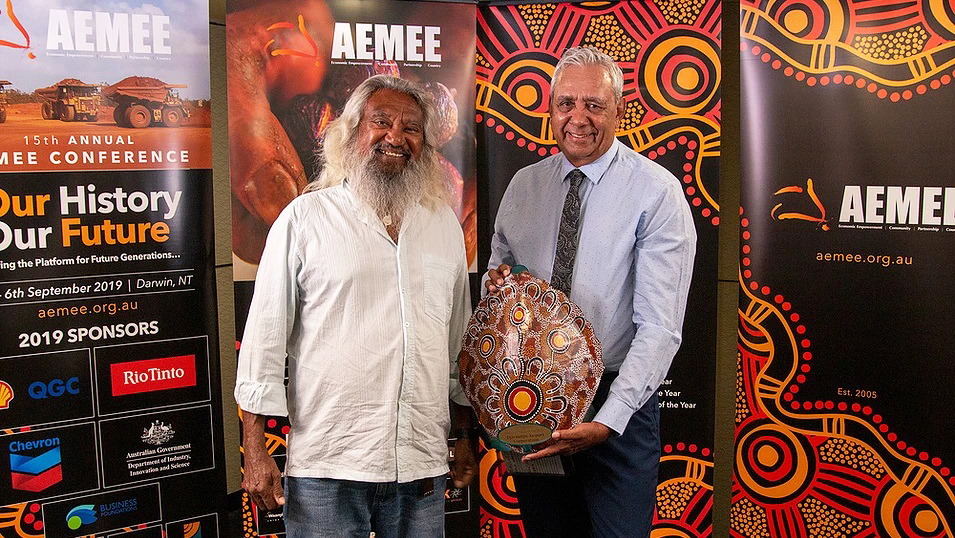 DAC Chair Brian Lee and Airport Manager Kimberley Baird accepting an award at the 2019 AEMEE Annual conference.
The Djarindjin Aboriginal Corporation (DAC) is a client of Business Foundations who is a 100% Indigenous owned and operated organisation that represents the community of Djarindjin. Located approximately 200km from Broome, the community is home to 300 Bardi and Jawi people. DAC's mission is to create a sustainable future for their community, in which they can focus on taking care of country and allowing their community to continue to thrive. Business Foundations is currently working with DAC to develop their business proposition and realise their business' potential.
DAC owns an airport within their community that provides hot refuelling services to the helicopters that fly for oil and gas companies operating in the nearby Browse Basin. As a community-focused organisation, their employees are local Indigenous people. Whilst DAC has a range of other business ventures, the airport is the main source of their revenue. DAC's business activity allows their community to be 70% self-funded, offsetting the decline in government services funding.
DAC's goal is to develop their airport to become the primary heliport for all Browse Basin activities. Arguably the most commercially viable option, DAC provides an incentive to oil and gas companies of being cost-effective, efficient, safe and community focused.
You can learn more about DAC through their website.
Contact Us
Fremantle Headquarters
Wesley Central.
2 Cantonment Street,
Fremantle WA 6160
(Level 1, Behind The Church)
PO Box 1616, Fremantle WA 6959
---
Get In Touch
Want to get in touch with us? Great…we're all ears.