The NEIS Program: What To Know
March 26, 2019
Interested in starting your own business? Have a hobby and are ready to take it to the next stage to create a viable business? You may be eligible to participate in the NEIS program.
NEIS (New Enterprise Incentive Scheme) is a free small business training program backed by the Federal Government to help eligible Western Australians establish and run their own businesses.
NEIS is delivered by a network of 21 providers who provide training assistance for those who want to become self-employed business owners.
A total of 8,600 NEIS places are available each financial year.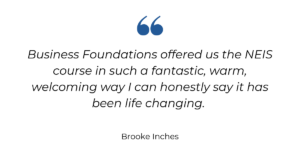 This government funded program includes free accredited small business training, mentoring for the first 12 months of operating your business as well as NEIS income support for up to 39 weeks to help kick start your new venture.
To Be Eligible For NEIS, You Must:
be at least 18 years old when they start NEIS Assistance

be available to participate in NEIS Training (if relevant) and work Full-Time in the proposed NEIS Business

not be prohibited by law from working in Australia

not be an overseas visitor on a working holiday visa or an overseas student studying in Australia

not have received NEIS Assistance in the past year

not be an undischarged bankrupt

be any other person or persons the Department advises the NEIS Provider in writing from time-to-time.
NEIS Business Eligibility Criteria Are That The Proposed NEIS Business:
is not currently operating on a commercial basis

has an independent business structure

is lawful and capable of withstanding public scrutiny

has been assessed as Commercially Viable by the NEIS Provider

will be established, located and operated solely within Australia

will be structured so the person has and will maintain a controlling interest over the NEIS Business for the duration of the person's NEIS Participant Agreement.
 The NEIS program does not provide any start-up grants or loans.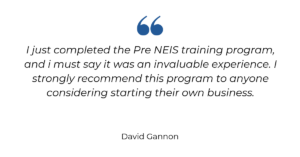 Over the past three decades, NEIS has assisted more than 250,000 Australians start their own business.
You can read some of our inspiring NEIS success stories here. You can check your eligibility below.
Contact Us
Fremantle Headquarters
Wesley Central.
2 Cantonment Street,
Fremantle WA 6160
(Level 1, Behind The Church)
PO Box 1616, Fremantle WA 6959
---
Get In Touch
Want to get in touch with us? Great…we're all ears.