Seven Steps To Starting Your Own Business
July 15, 2018
Everyone has great dreams of working for themselves. However, there are important steps to starting a business that you need to know in order to move your business dreams to reality.
Want to start your own business? Ready to be your own boss? Let's explore the 7 key steps to begin your very own business.
To make this process easier, you can download our Seven Steps To Starting A Business Checklist.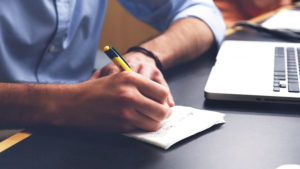 1. Find Your Great Business Idea
A great business idea isn't just one that makes money. It's also one that is a great fit for your personality and compliments your strengths and skills. Great businesses are often fuelled by owners who have a real passion for what they do. A good business idea needs to stand the test of time.
Once you settle on an idea, research the marketplace to see how similar businesses have fared and how tough your competition may be. Get to know your industry, your competitors and where you fit in the market.
2. Create A Business Plan
Once you have an idea that you're confident with and you've identified who your potential customer are – it's time to make a plan. Many businesses fail because they don't take the time to make a plan and stick to it.
A big part of having a successful business is having a clear vision of success. This must include an understanding of your market, an explanation of your unique selling proposition (USP), a detailed business model and plans for execution (marketing, sales, finances and operations).
There are many free business plan templates online. Start with a brief summary and keep the rest of it short, clear and concise.
3. Choose Your Business Structure
Once you have created a business plan, you will need to decide on the structure that best suits your business. Your choice of structure will depend on a few circumstances, such as the size and type of the business, and how you plan to grow your business.
No business structure is set in stone. As the business continues to grow, your circumstances will change over time. You can start out as a sole proprietorship or a partnership, and then change to a limited liability company (LLC) or a corporation once you are more established.
4. Get Licenses And Permits
Paperwork is a part of the process when you start your own business. Now is the time to apply for your Australian Business Number (ABN), which you will need to identify your business to the Australian Government and other businesses.
You will need to register your business name, and decide whether to register for GST or not (it's compulsory once your business earns over $75,000 per annum). Check which licenses you need on the Australian Business Licence and Information Service (ABLIS), such as a home-based business permit from your local council. Make sure you have everything in place before you take the next step with your small business.
5. Build Your Team
If you will be hiring employees, now is the time to start the process. Take the time to outline the positions you need to fill, and the job responsibilities that are part of each position. If you're not hiring employees, and you'll be outsourcing work to independent contractors, again now is the time to start your search.
If you're a solopreneur, surround yourself with trusted mentors or business coaches who will serve as your go-to resource for advice, motivation and reassurance when the road gets bumpy.
6. Determine Your Finances
Managing your business finances can be critical to the success of your small business. The first source of funds for your business would be your own savings.
If your savings are not enough for your start-up budget, you can look for funds from banks, investors, well-wishers, friends, and relatives. Look for banks that fund start-ups in your locality. You may also like to consider starting a crowd-funding campaign to raise funds for your start-up.
7. Promote Your Small Business
Once your business is up and running, it's time to start marketing to your ideal clients. How are you going to spread the word about your business to the right people that want or need your product or services? Whilst there are many marketing options available, make sure to consider your target audience when determining which ones to use.
Such options include creating a website, social media campaign, blogging, e-newsletters, digital/print advertising, brochures, flyers, attending networking events, encouraging word of mouth and cold calling.
Don't forgot to download our Seven Steps To Starting A Business Checklist.
Have a small business dream? Ready to be your own boss? You may be eligible to apply for the New Business Assistance with NEIS Program.
This government funded program includes free accredited small business training, mentoring for the first 12 months of operating your business as well as NEIS income support for up to 39 weeks to help kick start your new venture.
Check out your eligibility below.
Contact Us
Fremantle Headquarters
Wesley Central.
2 Cantonment Street,
Fremantle WA 6160
(Level 1, Behind The Church)
PO Box 1616, Fremantle WA 6959
---
Get In Touch
Want to get in touch with us? Great…we're all ears.