The Boosting Female Founders Initiative is a grant to help female founders of start-up businesses to launch and scale their businesses into domestic and global markets.
We spoke to two of our clients, Josephine Muir and Mary Webberley from Noisy Guts to chat about their journey and how the Initiative helped them expand their start up.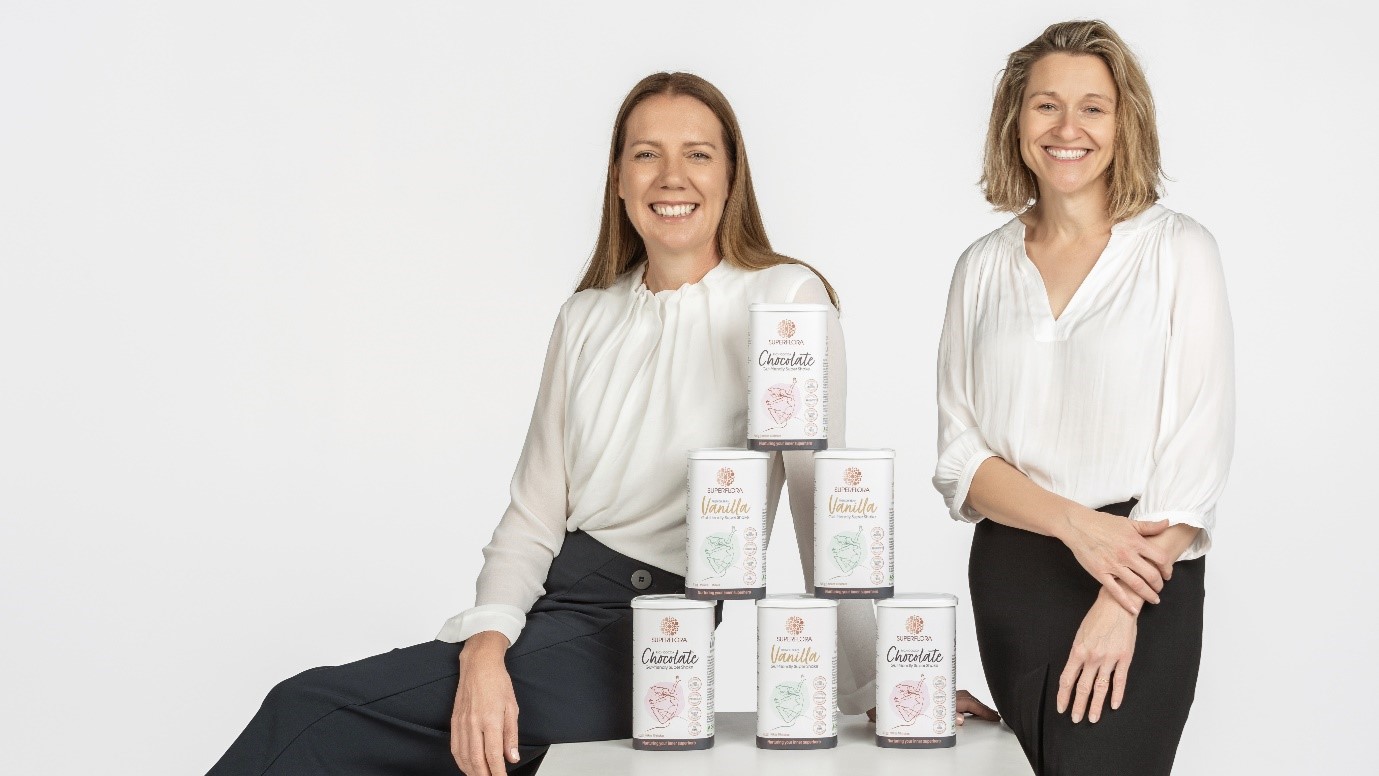 How did you find out about the Female Founders Initiative?
As part of the federal government's Boosting Female Founders Initiative, we were invited to receive four hours of mentoring to assist with our female-founded business. Sadly, we were unsuccessful in receiving the grant, but the mentorship was a good consolation prize!
What motivated you to start your own business?
Noisy Guts is an Australian gut health start-up. We are female founders on a mission to improve the lives of people suffering from chronic gut health issues. We're supported by Nobel Laureate Professor Barry Marshall (our medical advisor and long-term ambassador) and a spin-out from The University of Western Australia.
As a result of our gut health research, we have developed close relationships with those living with chronic gut health issues and we are motivated to make their lives better. And as someone who has lived with post-infectious Irritable Bowel Syndrome for over three decades, I'm intrinsically motivated to value-add to those with gut health issues.
What is the most valuable information you learned in the Female Founders Initiative?
We met our mentor Eric Clock prior to our new product launch. The timing was perfect for us, as we were able to road test our customer profiling, branding and communications.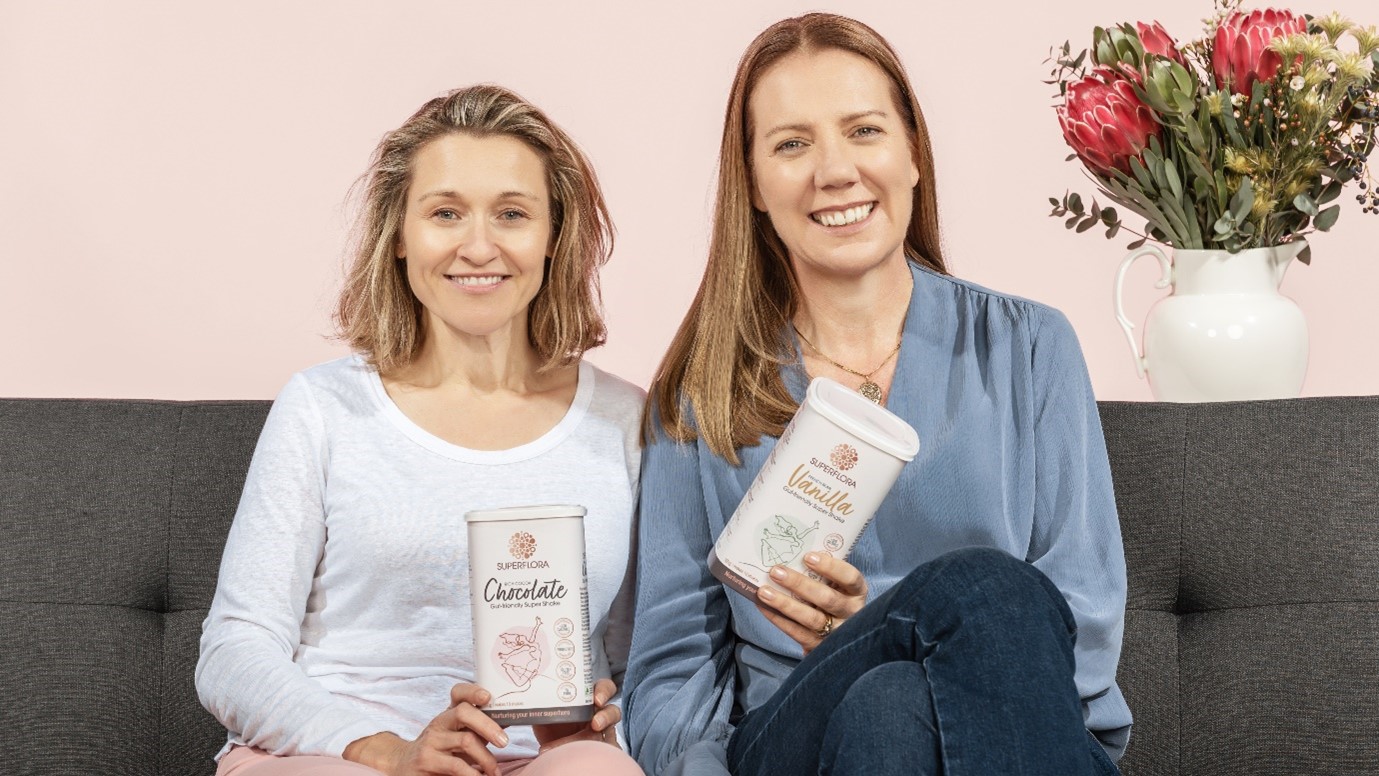 Tell us about your business. What services and/or products do you provide?
Recently, Noisy Guts launched Superflora – Australia's first gut-friendly shake. This has been an incredible undertaking in the midst of a global pandemic. The learning curve has been steep, engaging and thrilling. Our shakes are gluten-free, certified low fodmap and contain only gut-friendly ingredients.
They contain clinically validated probiotics and gut-safe fibre. Our customers use Superflora shakes for weight loss, a convenient grab 'n go meal or as a post workout protein boost.
What challenges have you had to face since starting your business? How have you overcome these challenges?
The $20BN meal replacement market is noisy and saturated, so our greatest challenge is standing out in a highly competitive space. There is so much snake-oil being marketed on social media. As a result, our biggest challenge is communicating the benefits of our product over our very vocal competitors – without competing on price or calories.
Ours is the only gut-friendly shake on the market and it's recommended by our medical advisor – WA's favourite gastroenterologist Nobel Laureate Professor Barry Marshall. Having a brilliant, high-quality product isn't enough! I'm not sure we have overcome this challenge yet. We're a work in progress!
What have been some of the highlights of operating your own business?
There are three highlights to my day.
The first happens every time we get an order. I hear the 'ping' of the order hitting my inbox and it never ceases to put a smile on my face. I hope I never stop squealing in response to seeing the email headed – "Noisy Guts: a new order has arrived".
The second highlight is getting positive feedback from our customers. Repeat orders are gold, but even better is when customers email their feedback to me. It's always awesome to receive glowing reviews. I print each one of these love notes and pin it to my whiteboard.
And the third highlight is hitting the post office. I'm now on first name basis with everyone who works at our local post office. They cheer every time I walk in with an order – big or small!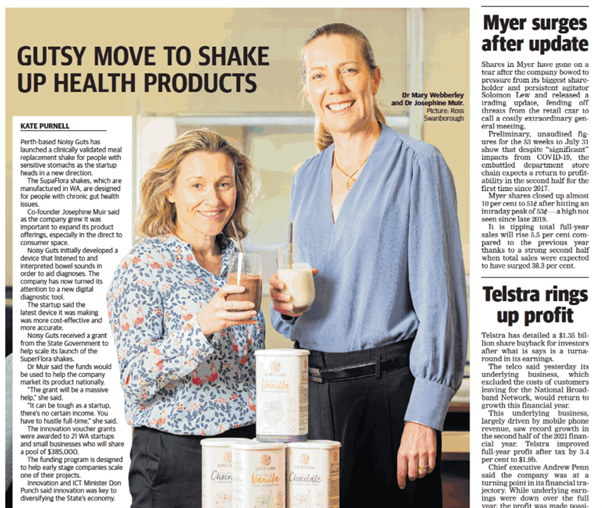 What is one piece of advice you can give to others thinking about starting their own business?
So how do you eat an elephant? One mouthful at a time. Starting your own business is going to get overwhelming at times, and you're going to find yourself googling the term imposter syndrome at 3am. Don't panic! It's perfectly normal when you're continuously operating outside of your comfort zone.
Nothing I've done to date is, in fact, rocket science. I know this because I've met rocket scientists before and nothing is as complicated as putting a rocket in space! So relax. You've got this.
Are there any additional comments you would like to include about your business, journey or experience?
I am so blessed to have a brilliant co-founder and co-pilot in Dr Mary Webberley. Noisy Guts wouldn't be as advanced or as fun without her.
You can learn more about Noisy Guts through their Website, Facebook and Instagram.
You can learn more about the Boosting Female Founders Initiative below.
Ackowledgement Of Country
Business Foundations acknowledges the traditional custodians throughout Western Australia and their continuing connection to the land, waters and community. We pay our respects to all members of the Aboriginal communities and their cultures; and to Elders both past and present.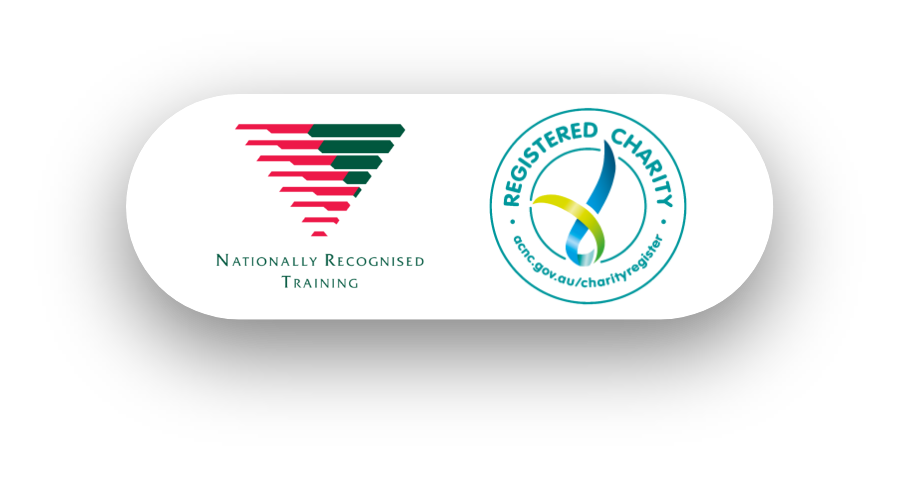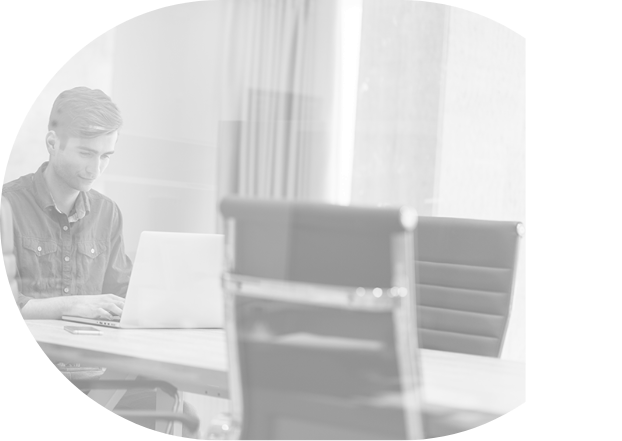 Get In Touch
Have a question or to find out how we can help you, please get in touch.